Hi, welcome to South Park: A New Era Wiki! Thanks for your edit to the Shane Marks page. Please leave a message on my talk page if I can help with anything! -- MEGAKID III (Talk) 16:50, August 16, 2011
Unlocking Shane
Edit
Sorry about that, I will unlock Shane Marks P.S We will not delete anything like South Park Fanon Creator of South Park: A New Era and Coon and Friends 07:43, August 17, 2011 (UTC)
I'm sorry, I must be stupid sometimes. What's your URL for your wiki. P.S Unocked Slient Mania, 1 more thing, I have put The Black One in, is that fine I don't mind, it's okay."Share your knowledge, it's a great way to achieve immortality." 14:44, August 20, 2011 (UTC)
Re: Ban Megakid
Edit
The only reason I blocked you, because you STOLE my show and thearting me by saying Ban Megakid, THAT'S THE RULES, READ THEM, number 8!!!!!
Hmm, Do you know what stealing is? If I stole it, I'd admit to myself it is an original idea wouldn't I? I'm not stealing. Plus I'm not threating you then again I don't remember doing that as I wasn't in at 10:00 AM - 6:30 PM today. And It's not stealing If I don't credit you. Plus, people are going to have the same idea's as you, it's not stealing. Blocking me solves nothing, btw CAF(MP) isn't a steal, I would steal it if it was similar, but it wasn't! 19:41, August 21, 2011 (UTC)"Share your knowledge, it's a great way to achieve immortality."
Yeah sure, P.S Sorry about the blocking

Creator of South Park: A New Era and Coon and Friends 07:49, August 24, 2011 (UTC)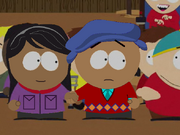 its done :D
EricCartmanTV
04:15, August 30, 2011 (UTC)
THANK YOU
Edit
He's banned for life, don't worry, I block anyone who destroys the wiki!. Thank you for telling me that.

Creator of South Park: A New Era and Coon and Friends 19:29, August 30, 2011 (UTC)
It's Time
Edit
I want to thank you for making a fan fic with my character in, So I'm going to ask EricCartmanTV if you could be an Admin, because you have made me proud :) Congratz Awesome as Mysterion 16:04, December 23, 2011 (UTC)
Now your an admin like me Awesome as Mysterion 15:30, December 24, 2011 (UTC)
South Park CLS Request
Edit
Sure, you can help out with Colorado's Last Stand. If you want, you can help write the story with me and MEGAKID or provide some pictures to go along with the story. EricCartmanTV 07:30, December 30, 2011 (UTC)
About the red haired thing, Andrew's mum has Brown-Red hair, so that how Andrew is red.
Awesome as Mysterion 23:10, January 7, 2012 (UTC)
Hi.I'd like to ask you if you'd like to join me in creating a South Park fanon wiki.It's based on my one fanfic South Park:The Adventures of Gerald Cartman.You'll also be an admin(of course.)Anyway,I've already asked EricCartmantv and MegaKid,hopefully,the say yes.
Cuchulainn's Spear 17:07, January 16, 2012 (UTC)Not as cool as the original Cuchulainn Cuchulainn's Spear

Do you know where EricCartmantv and Megakid have gone off to?Haven't seen them on this wiki for about a week.
Cuchulainn's Spear 00:36, January 27, 2012 (UTC)Cuchulainn's Spear
New SP Fanon Wiki
Edit
Hey did you guys ever start a new wiki cause im starting a new one right now.. Megakid kinda ruin this one for me.
The New wiki is southparkworld.wikia.com
If you already started one, tell me the link.
EricCartmanTV 04:12, February 26, 2012 (UTC)
Don't worry,I've already deleted the characters I wanted deleted.No,unfortunately,I don't write fanon anymore.But I do still write.Here's a link to my author's profile.
http://www.google.com/url?sa=t&rct=j&q=&esrc=s&source=web&cd=1&cad=rja&ved=0CCEQFjAA&url=http%3A%2F%2Fwww.fictionpress.com%2Fu%2F873734%2FBuddhist-Warrior&ei=yviOUNDeOunEyQGFpYHgCQ&usg=AFQjCNFoqv-LQOcGQccIreHZKydxeh3Lfg