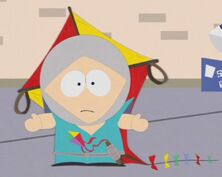 The Human Kite or Human Kite for short is a superhero alter-ego of Kyle Broflovski, who appears in the superhero arc. He is a member of the superheroes group Coon and Friends. He, as Cartman's enemy , would make perfect sense that Cartman (aka The Coon) is actually Kyle's (aka as said above) nemesis. Human Kite's "superpower" is the ability to fly and shoot lasers out of his eyes.
Ad blocker interference detected!
Wikia is a free-to-use site that makes money from advertising. We have a modified experience for viewers using ad blockers

Wikia is not accessible if you've made further modifications. Remove the custom ad blocker rule(s) and the page will load as expected.