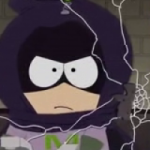 MEGAKID III (or just MEGAKID) was the creator of South Park: A New Era and 1st leader for the SPANE wiki. He is an admin and helps edit articles all the time. He was always on everyday except holidays. He created various characters including his signature character, Andrew.
On December 11, 2011, He blocked the wikia founder, EricCartmanTV for editing his character's page Andrew. Megakid was later stripped from his Admin rights and blocked for 1 month. The block was later removed when Megakid claimed that his brother was the one who blocked EricCartmanTV and Cuchulainn's Spear, not him and was later awarded co-admin again.
On February 26, 2012, he was awarded main admin due to EricCartmanTV's departure to a new fanon wiki, Good luck to him.
MEGAKID III got blocked for no reason by Cucuhlinan's Spear on the 10th October 2012, but after help from Rappy4187, he became an admin again
Filmography
Edit
Ad blocker interference detected!
Wikia is a free-to-use site that makes money from advertising. We have a modified experience for viewers using ad blockers

Wikia is not accessible if you've made further modifications. Remove the custom ad blocker rule(s) and the page will load as expected.