South Park character
Adam Conners
Gender
male
Hair
none
Age
10
Job
student
Voiced by
Trey Parker
Appearances
First
Noob Undercover
Last
It's over Juan!
Adam Edwin Conners is a student at South Park Elementay. He is always seen with Tom Wyatt and Juan Garcia.
Appearance
Edit
Adam Conners is a very quiet 5th grader. He is seen talking to Juan and Tom. Most kids in the school try to stay away from him from the fact that he look extremely intimidating. He has a buzz cut hairstyle, very bushy eyebrows, and wears a red jacket. He also wears blue super-skinny pants and a hat that he wears to the side.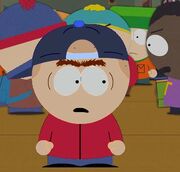 He only speaks once in It's over Juan! saying, "Kick his ass Juan!" when Andrew and Juan are about to fight at the playground.
His last name, "Conners" was mentioned by Mr. Garrison, when he describes Adam's appearance, calling him "That Conners Kid".
He is a prominent member of Juan's Gang
His parents are divorced, he currently lives with his birth mother, his stepfather, 1 of his biological brothers, 1 of his sisters, 2 of his stepbrothers, and his half-brother